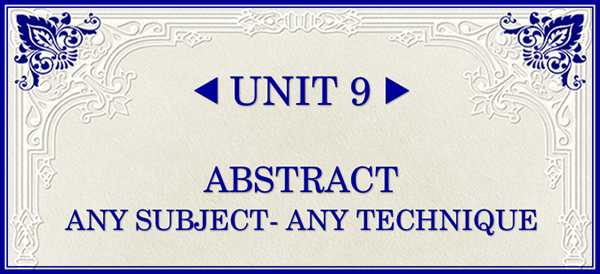 Click HERE to return to the Unit Judging Guidelines page for more details on each unit
or click the quick link button below to go the Unit

✽
UNIT 9
✽

Any product or combination of products may be used in this Unit - providing it is kiln fired. Glazed porcelain, porcelain bisque, bone china and porcelain canvas are acceptable.

NO Ceramics, NO Commercial grounding. Size of piece must be at least 6inches or 15cm.

A CARD WITH THE TITLE OF YOUR PIECE IS TO BE DISPLAYED.


DEFINITION - ABSTRACT ART:

No representational painting that relies entirely on line, form and colour, disassociating itself from reality though it may conjure up images for the viewer.


JUDGING - KEEP AN OPEN MIND! Read General Judging Guidelines and Judging Guidelines, etc. on Pages 2 - 6 of the "Porcelain Art Teachers New Zealand Judging Guidelines" booklet or here on our site.


  ✦ Refer to Guidelines for Firing, Colour and Value.
  ✦ Read the definition of Abstract and try to see the origin of the artist's inspiration.
  ✦ Place yourself in his/her shoes.
  ✦ Feel the pull of the design.
  ✦ Does it have any kind of unity?
  ✦ Meaning?
  ✦ Mood?
  ✦ Whether you understand its origins or not - does the Line, Concept, Whole effect work?



TECHNIQUE/APPLICATION:


❖ A wide range of products will be used in this Unit and it would be impossible to individually examine them all.
❖ Look for exhibition standard application.
❖ Look for effective, well applied products (penwork, gold, lustres, etc.).
❖ NO smudges.



DESIGN/SUITABILITY:


❖ The piece should be chosen carefully for this Unit.
❖ Clean lines forming an interesting shape, or perfectly plain porcelain would be more suitable.



COLOUR/VALUE:


❖ General colour and value guidelines apply - but has the artist reached you with the use of colour? The use of tonal value to give perspective or cohesion?