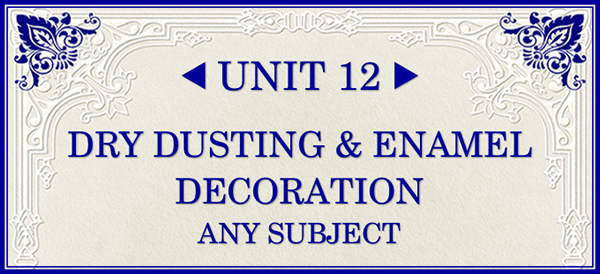 Click HERE to return to the Unit Judging Guidelines page for more details on each unit
or click the quick link button below to go the Unit

✽
UNIT 12
✽

There is no size restriction for this Unit but piece should be sufficiently large to convince the judges of your ability in these subjects.

    ●  NO Porcelain Bisque
    ●  NO Ceramics
    ●  NO Bone China
    ●  NO Penwork
    ●  NO Lustres
    ●  NO Metallics

Enamel may be white or coloured, (NO gold over) and must be applied in the traditional manner - NO sponging etc.

Enamel can be used to enhance the dry dusting or as a border to complement the design. Dry Dusting must not be confused with 'flow enamel' as in mosaic decoration.


JUDGING: General Judging Guidelines and Judging Guidelines, etc. on Pages 2 - 6 of the "Porcelain Art Teachers New Zealand Judging Guidelines" booklet or here on our site.


TECHNIQUE/APPLICATION:


❖ NO bubbles, chipped or crazed enamel.
❖ Look for smooth flowing tails on scrolls, even or graded dots.
❖ If the enamel has spread and lost its form, the effect will be poor.
❖ Does the use of enamel enhance the piece?
❖ Dusting must be obvious to the judges.
❖ Dusting is an enhancement to a subject and gives an aura or glow, sometimes adding depth of glaze but not necessarily extra value.



DESIGN/SUITABILITY:

Porcelain may be chosen from a wide range of shapes and styles and the design should complement this shape. Dusting and enamel should look comfortable together and enamel not have the appearance of an 'after thought'.