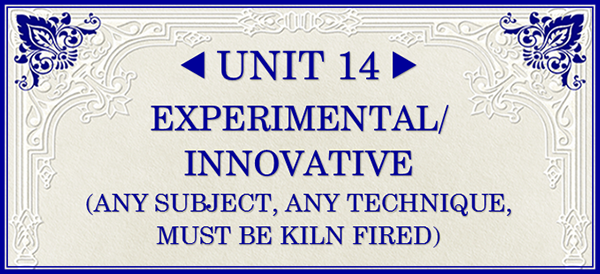 Click HERE to return to the Unit Judging Guidelines page for more details on each unit
or click the quick link button below to go the Unit

✽
UNIT 14
✽

There is no size restriction on this Unit but it must be accompanied by a typed or neatly printed description of the various techniques employed in its execution. (Card to be approximately 6inches x 4inches and contain a brief summary only.)

Any products, or combinations of products may be used including sand, glass, relief and moulded areas, etc. etc. but must have some fired porcelain content.


THE WORK MAY BE IN EITHER MODERN OR TRADITIONAL STYLE, BUT MUST BE AN ART WORK OF EXHIBITION STANDARD.


JUDGING - KEEP A VERY OPEN MIND! General Judging Guidelines and Judging Guidelines, etc. on Pages 2 - 6 of the "Porcelain Art Teachers New Zealand Judging Guidelines" booklet or here on our site.

This is a Unit to encourage experimentation and innovation and does not necessarily have to conform in the manner of other Units. Some part of the piece offered for judging may show a glimmer of hope for a new technique or product.

Is it a good idea? OR a combination of good ideas?

Has the artist come close to effecting something interesting?

Did you admire the artist for his/her ingenuity?

The judging grid was not designed specifically for this Unit and may be harder to adapt it to the task, but the firing, technique, design and colour can all still be evaluated in some manner, but remember - you are not looking for absolute perfection - just great ideas!