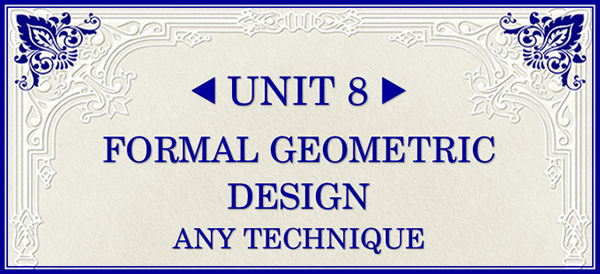 Click HERE to return to the Unit Judging Guidelines page for more details on each unit
or click the quick link button below to go the Unit

✽
UNIT 8
✽

This Unit Standard may be painted on a glazed porcelain surface, porcelain bisque or bone china. NO Ceramics. Size of piece must be at least 6inches or 15cm.

Tiles must be suitably framed, but must NOT be under glass.

NO Commercial grounding.

Other combinations of products may be used - lustres, pen and paint, gold, enamels but NO Commercial grounding.

Shapes used in the design must be geometric shapes, i.e. circles, squares, triangles, rectangles, or parts thereof.

Design to be precise and repetitive - at least 6 repeats required.

Application may include grounded shapes, texture, etc.


JUDGING: Read General Judging Guidelines and Judging Guidelines, etc. on Pages 2 - 6 of the "Porcelain Art Teachers New Zealand Judging Guidelines" booklet or here on our site.


TECHNIQUE/APPLICATION:


❖ Any pen lines must be well executed.
❖ Dots must be evenly graduated or evenly sized and cleanly applied.
❖ Any lustres, metallics, grounding, etc. must be expertly done.
❖ No smudges, no thick/thin patches.



DESIGN/SUITABILITY:


❖ Any ornate relief in the porcelain must fit in with the repeat pattern of the design.
❖ Repeat pattern must be PRECISE.
❖ The use of white porcelain in the design is very acceptable, i.e. the entire area does not have to be painted, or the design may be placed on a painted surface.
❖ Design must include 6 or more repeats.



COLOUR/VALUE:


❖ Use of clever colour/value will enhance the geometric design.